508 Pershing at Oakwood Shores
High-need area gets newly constructed rentals for families.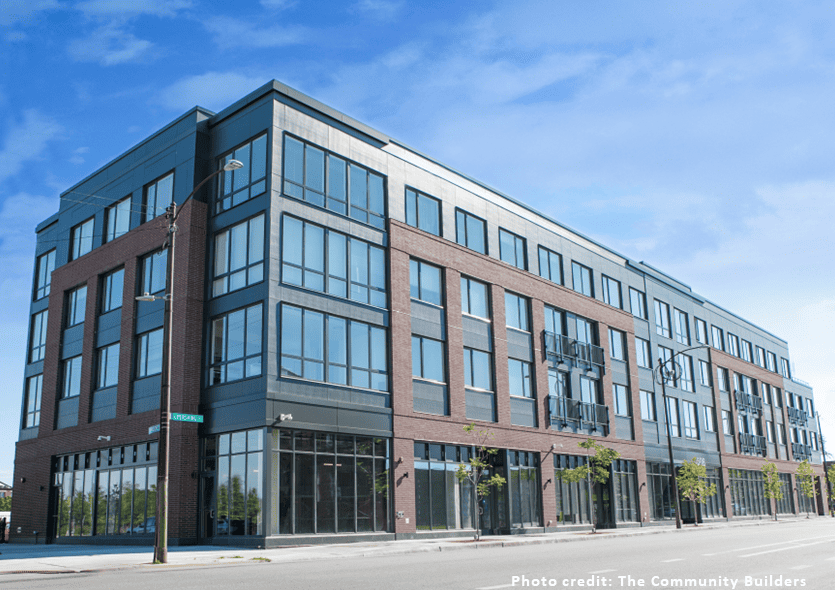 Headquarters

Ohio

Category
Large-scale redevelopment of Chicago's Oakwood Shores neighborhood
The new construction of 508 Pershing will involve the 8th redevelopment phase of the former Chicago Housing Authority public housing site in Chicago's Bronzeville neighborhood. The five-story development consists of four stories of residential apartments atop 3,500 sf. of retail and office space. The fifty-three 1-bedroom and 2-bedroom apartment consist of 36 rental homes to be restricted to 30% AMI and 60% AMI with 20 apartments subsidized. The remaining 17 homes are unrestricted market units. The neighborhood has received substantial investment in recent years, including education services, retail, healthcare, and parks & recreation. The 508 Pershing site is adjacent to the furniture bank and a newer Mariano's grocery.
The Community Builders Inc., a national non-profit developers of affordable and mixed income housing with more than 50 years of experience in developing and managing affordable housing. The Community Builders have developed or preserved over 25,000 rental homes of affordable and mixed-income housing and currently manage more than 10,000 apartments at over 100 properties.
Developer partner and SAHF member
Interested in becoming a Developer partner?