Desert Oasis II
Quality senior housing creates a thriving community.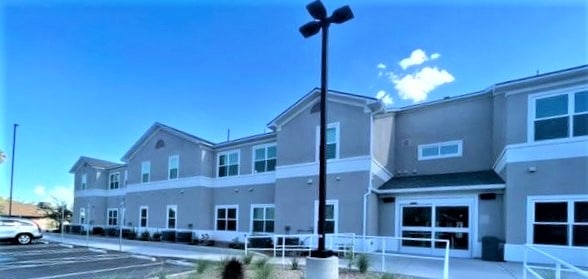 Headquarters

Portland

Categories

ESG

LIHTC Project

Project

Senior Housing

Supportive Services
Located in Las Vegas, NV, the Desert Oasis II is an addition to the pre-existing 75-unit Volunteers of America senior housing project, Desert Oasis. This latest phase, newly constructed on the original 4.87-acre parcel, comprises a modern two-story apartment building housing 43 new rentals, including 31 one-bedroom and 12 two-bedroom apartments and designated common areas. It also features an accessible elevator for the convenience of residents. An approximately 1,500 square feet recreational clubhouse with amenities such as a fitness center, media room and library, computer center, health and wellness room, laundry room, and leisure spaces boasting a pool table and piano adds vibrancy to the community's spirit. An addition of an exquisite community garden supplements the charm of the property.

The entire Desert Oasis II development holds an Energy Star rating, demonstrating the project's commitment to sustainability. Throughout the building is the integration of a variety of energy-efficient and eco-friendly building systems and features. Among these are photovoltaic panels that contribute at least 11% of the project's electricity, Energy Star-rated windows and appliances, tankless water heaters, and water-conserving toilets. Furthermore, the project adopted green building practices, such as low and no-VOC materials, and extended this environmental consciousness to its outdoor spaces, featuring xeriscape water-conserving desert landscaping.

Every corner of the project demonstrates accessible design and a strict adherence to regulations concerning accessibility and adaptability. Apartments are fitted with grab bars and walk-in showers for the convenience of residents. Aside from its diverse amenities, the clubhouse also includes an examination room. External features such as a dog park, a community garden with raised beds, and the proximity to a walking and biking path further enhance the appeal of the development. Residents also benefit from various on-site supportive services, including health and wellness screenings, doctor visits, food distribution, diverse transportation options, and a range of social and educational activities managed by an on-site coordinator.
Volunteers of America (VOA) has grown into one of the largest and most effective nonprofit housing organizations in the nation. Their network includes more than 500 properties in 42 states, including Puerto Rico, and our nationwide portfolio has grown to over 20,000 affordable units. As a leading non-profit provider of quality, affordable housing – VOA also provides the vital support services needed within them. They are nationally recognized for their dedication to providing care and housing to various segments of society, including seniors, veterans, families, and persons with disabilities.
In senior housing, VOA supports independence and quality of life through service-enriched housing. For veterans, they provide a range of housing options, from studio apartments to four-bedroom townhomes, accompanied by supportive services. Their family housing accommodates universal needs, assisting homeless families to first-time homebuyers and fostering community growth by providing necessary services that allow families to thrive. VOA provides persons with disabilities with more than adequate, adaptive, and supportive housing, promoting independent living through integrated activities, healthcare, and transportation services.
Interested in becoming a Developer partner?