Renaissance Veterans Apartments at Fitzsimons
Mitigating homelessness for Veterans.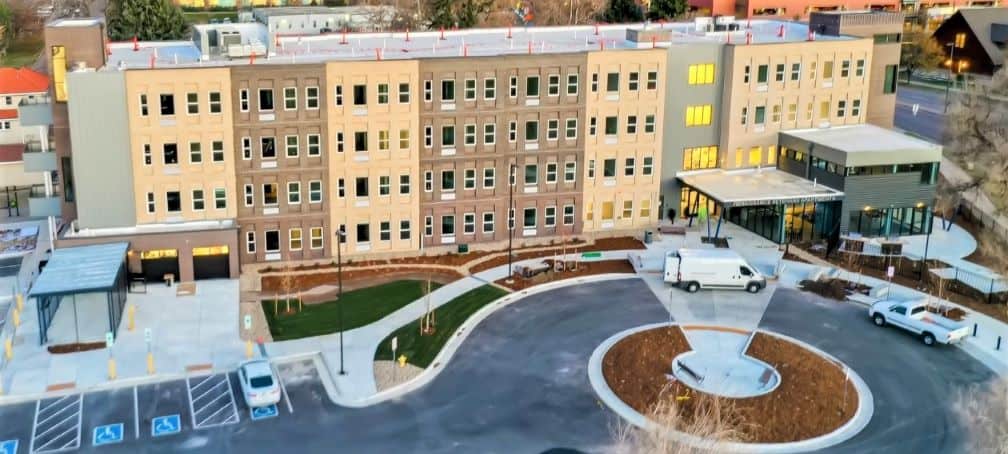 Headquarters

Portland

Categories

ESG

LIHTC Project

Project

Supportive Services
The Colorado Coalition for the Homeless (CCH), and its subsidiary, Renaissance Housing Development Corporation (RHDC), opened Renaissance Veterans Apartments at Fitzsimons, a four-story permanent supportive housing development. It offers 56 one-bedroom and four two-bedroom apartments with full kitchens and bathrooms. The building features spacious units, large windows, and various amenities such as case management services, 24-hour reception, laundry facilities, a TV room, a computer lab, an outdoor workout area, a dog run, a walking path, a kitchen, a multi-purpose room, and community spaces.
CCH exceeded accessibility requirements by designating 40% of the apartments as fully accessible, providing more accessible parking spaces, wider corridors, generous public areas, ample lighting, and accessible paths and amenities.
Residents benefit from comprehensive supportive services, including integrated primary and behavioral health care in the on-site medical exam room. Individualized support from Coalition case management helps establish stability and prevent homelessness among at-risk people. The building meets or exceeds the guidelines of Enterprise Green Communities, prioritizing energy and water efficiencies, indoor air quality, and sustainable space utilization for reduced utility costs over time.
In over 30 years of service, the Colorado Coalition for the Homeless has developed a variety of housing developments in Colorado. Their integrated housing approach combines supportive housing for individuals and families experiencing homelessness with affordable housing for working individuals who otherwise could not afford quality housing in desirable locations. Their 2,500 units utilize innovative architectural designs and high environmental standards of to add significant value to neighborhoods while cultivating pride and well-being among residents and the larger community.
Interested in becoming a Developer partner?